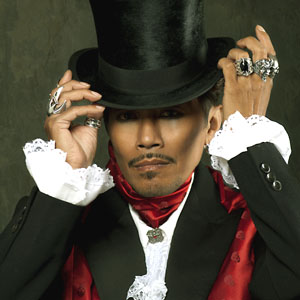 IDU Info
I used to go out in Belgium as a young man, I spent most of my life in Brabant, in the southern part of the Netherlands.
I got very frustrated as I could never find anything that pleased my eyes and nothing was extravagant or different enough for me.
I wanted to feel unique and decided to make my own clothes.
Friends and even total strangers approached me at parties and disco's and ask where I bought those outfits. One thing leads to the other and I started making clothes for other people too, mainly for my friends who wanted to dress up nicely and trendy as me. My love for fashion was so great, I decided to go to fashion school to learn the tricks of the trade.
Faith was also responsible for one of the greatest changes in my life. The company where I used to work went bankrupt. The solution?
Set up my own business and go for it. And that's what I did in 2001. I'll Dress U was born.
I was present at various clubs and erotic fairs to promote I'll Dress U like: Erotikmesse in Düsseldorf (Germany), Le salon Sexy Chic & Choc in Bruxelles (Belgium), Erotica Beurs in Brugge (Belgium), Mega Erotica in Antwerp (Belgium), Extravaganza, Erolife, L'erotic-plaza, KamaSutra, The showboat, Organza, Extrema DanceFestival and De DansSalon in the Netherlands.
Ofcourse, I may not forget to mention, my fashion shows at De DansSalon and The KamaSutra erotic fairs and an invite from TV broadcast The Nachtsuite.
Many shops were my clients like, My Sin-Rotterdam, Subliem-Rotterdam, Absolute Danny-Amsterdam, Hoge Hakken-Numansdorp, WOW-Eindhoven, Miranda-Utrecht, Female & Partners-Amsterdam, Mantalk-Amsterdam, Tower's-Antwerpen, Fetish Company-Eindhoven, Hot & Spicy-Belgie, Ero-Mundo uit Portugal and many more.
Unfortunately many shops were closing their doors because of the recession,
Life is not easy when you have a small trade, but I am a fighter and will go on, no matter what cost me on effort.
In 2011 I started a Joint Venture with Fun Steel Products and a partnership with Arnold of FSP.
I moved to Puttershoek where we build an atelier on our own ground. Many of my customers commitment to privacy, that's what we have.
You can visit my atelier after telephone arrangement +31(0)786763044.
Need a new outfit for the Wasteland, be on time.
I'll Dress U is also presale address for the Wasteland.
Jay.